Knapheide Upfits
---
Knapheide has a longstanding history of providing commercial vehicle solutions, including truck beds and truck equipment, to a wide variety of trades, which is why Schepel GMC has partnered with them for many years! Many Knapheide truck beds were designed for a specific vocation and are packed with features tailored to the job. The Commercial team at Schepel GMC can find you the perfect Knapeheide upfit to match your needs.
View Knapheide Upfits
---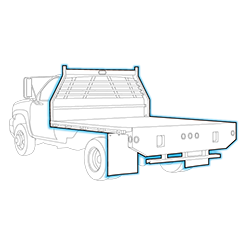 Knapheide Platform Body
Knapheide Platform Bodies enable users to safely and efficiently transport bulk materials and large equipment to and from the jobsite. Numerous vocational Platform Bodies are available for specific applications, including contractors and landscapers. Options and accessories available such as side accessories, floor materials, hoists and more are available to fully customize your Knapheide Platform Body.
View Knapheide Platform Upfits
---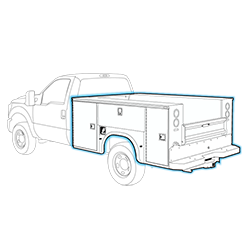 Knapheide Service Body
A service truck is your workshop on wheels and contains all the tools, parts and equipment you need to get the job done. Knapheide manufactures a full line of Service Bodies to meet nearly any vocational application or size of truck – from half tons to class eight. Whether you need a body that can handle your aerial device, telescopic cranes, tools or welding equipment, Knapheide has a Service Body that will meet your individual needs.
View Knapheide Service Upfits
---
Knapheide KUVs
Looking for the most dependable enclosed utility body in the industry? Look no further. Knapheide KUVs are considered essential equipment among the HVAC/plumbing, electrical, construction, utilities and telecommunications along with many other skilled trades across the continent. These enclosed utility bodies feature side accessible storage compartments and an oversized cargo area that can all be locked centrally for maximum security. The KUV also enables you to sufficiently organize your tools and equipment which directly translates into better efficiency and productivity on the jobsite.
View Knapheide KUVs
---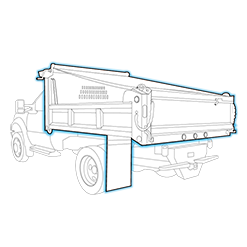 Knapheide Dump Body
Completely redesigned, Knapheide Dump Bodies possess the industry's best features including a versatile double-acting tailgate, innovative quick-release lever on drop side models and superior corrosion resistance. Construction, landscaping, lawn care, nursery and masonry companies along with municipalities big and small have relied on Knapheide Dump Bodies for their heaviest loads.
View Knapheide Dump Body Upfits